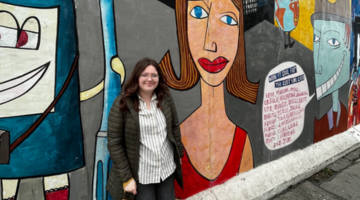 Friedman Kline Winner Eden Stargardt on her research
The German Department has been incredibly supportive of my research, and through the generous support of the Friedman-Kline Foundation and the Office of Undergraduate Research, in the last year I have had the opportunity to travel to Berlin twice to conduct research for my project.
My time in Berlin has allowed me to do archival research in several major institutions in Germany, including the Staatsbibliothek zu Berlin, the Staatliches Institut für Musikforschung, and the Deutsche Nationalbibliothek in Leipzig. After conducting my summer research, I was able to use my findings as the basis for my senior thesis through the German Department. I have worked closely with Professor Isabel von Holt, who is the department's DAAD Visiting Assistant Professor, over the past year to develop my research skills, and she has not only advised me through the thesis writing process, but also has become a great mentor. 
My project focuses on the impact of the fall of the Berlin Wall on the orchestras within the city and aims to explain how the orchestra acts as a microcosm of German society during this period of transition. I have gathered archival materials that have helped me to better understand the role of the orchestra in the Wendezeit, as well as read about first-hand accounts of life in the orchestra during this time.
When the Berlin Wall fell on November 9th, 1989, a formerly-divided city was suddenly reunited – however, a distinct separation remained between who and what belonged to the former East and the West. There was a visible, public unification that was displayed through public celebrations, concerts, and performances; however, there were many difficulties in reunification. My research aims to explore the connection between the role of the orchestra and greater German society.
READ MORE ABOUT EDEN'S RESEARCH