Isabel Von Holt
DAAD Visiting Assistant Professor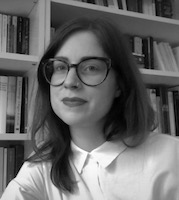 Isabel von Holt's research and teaching interests include the dialogue between the early modern and the (post-)modern, cultural theory, and transnational literature with a specialization on literary relations between Germany and Latin America. She holds a PhD in Modern German Literature and an MA in German Philology and Latin American Studies, all received from Freie Universität Berlin. Prior to joining the Department of German at Northwestern University, she was a research associate at the Collaborative Research Center "Episteme in Motion" and at the Department of German and Dutch Philology at Freie Universität Berlin.
Isabel von Holt's first book Figurationen des Bösen im barocken Trauerspiel is forthcoming at De Gruyter in the "Frühe Neuzeit" series. Her study deepens the understanding of 17th century literary and cultural production by reassessing the dramatic writing from authors such as Andreas Gryphius and Daniel Casper von Lohenstein as an aesthetics of evil avant la lettre. The book project received awards from the Fonte-Stiftung, the Ernst-Reuter-Gesellschaft (ERG) and Deutscher Akademikerinnenbund (DAB).
Her next project 'Barocke' Bewegungen: Literarische Praxis und Kulturtheorie in Deutschland und Lateinamerika seit 1970 explores the postmodern afterlives of the pre- and early modern in a comparative framework. This project was awarded a DAAD Postdoctoral Fellowship and a Hilde Domin Fellowship for German-Latin American Literary Relations.
Back to top