Rachel Zuckert
Associate Professor
PhD, University of Chicago, 2000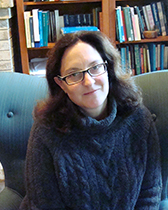 847-491-2556
1-140 Crowe Hall, 1860 Campus Drive
Her research focuses on Kant and his philosophical context: both his eighteenth-century predecessors and contemporaries, and post-Kantian, nineteenth-century philosophy. She is interested in practically every aspect of Kant's philosophy, but so far her research has primarily concerned Kant's Critique of Judgment, and has focused correspondingly on aesthetics and on teleological or organicist concepts in eighteenth- and nineteenth-century German philosophy. Her current research projects include a book project on Johann Gottfried Herder's aesthetic theory, as well as various projects on Kant's conception of reason. She has offered upper level undergraduate courses on Kant, nineteenth-century philosophy, and various topics in aesthetics, and graduate seminars on Kant, eighteenth- and nineteenth-century aesthetics, and eighteenth-century philosophy of history.
Publications include:
"Herder and Philosophical Naturalism," in Herder Jahrbuch XII/2014, 125-144.
"History, Biology, and Philosophical Anthropology in Kant and Herder" Internationales Jahrbuch des Deutschen Idealismus/International Yearbook of German Idealism: Philosophie und Wissenschaft/Philosophy and Science 8 2010 (published December 2011), ed. Fred Rush and Jürgen Stolzenberg, 38-59.
"Kant on Practical Fanaticism" in Benjamin Lipscomb and James Krueger, eds., Kant's Moral Metaphysics (Berlin: de Gruyter, 2010), 291-318.
"Sculpture and Touch: Herder's Aesthetics of Sculpture" Journal of Aesthetics and Art Criticism 67:3 Summer 2009, 285-299.
"Purposiveness and Projection: Kant and Heidegger on the Temporality of Judgment," in Transcendental Heidegger, Steven Crowell and Jeffrey Malpas, eds. (Palo Alto: Stanford University Press, 2007), 251-231.
"Kant's Rationalist Aesthetics," Kant-Studien 98 4 2007, 443-463.
Kant on Beauty and Biology: An Interpretation of the Critique of Judgment, Cambridge: Cambridge University Press, 2007.
"Awe or Envy: Herder Contra Kant on the Sublime" Journal of Aesthetics and Art Criticism 61:3 Summer 2003.
Back to top