Anna Parkinson
Associate Professor
Ph.D., Cornell University, 2007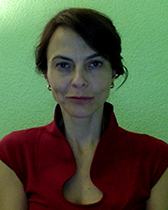 847-467-5173
Kresge Hall, Room 3-321
Anna Parkinson is Associate Professor in the Department of German, a Core Member of the Critical Theory Program, and an affiliate of the Gender and Sexuality Studies Program and the Jewish Studies Program at Northwestern University.
Her research has been supported by grants from institutions including the DAAD, the Andrew W. Mellon Foundation, the Deutsches Literaturarchiv (Marbach), the American Psychoanalytic Association, the Association for Women-in German, the "Languages of Emotion" Excellence Cluster at the Freie Universität Berlin, and the Mandel Center for Advanced Holocaust Studies at the United States Holocaust Memorial Museum. At Northwestern her scholarship has been supported by an AT&T Research Fellowship (2016-2018) and Faculty Research Grants, and in 2018 she was the recipient of a Weinberg College Distinguished Teaching Award at Northwestern. 2019-2020, she received an Andrew W. Mellon New Directions Fellowship, which allowed her to pursue formal training in forensic science, criminal justice and forensic and cultural anthropology at Columbia University and John Jay Institute for Criminal Justice, CUNY and Spanish language training.
Her first book, titled An Emotional State: The Politics of Emotion in Postwar West German Culture, was published in 2015 by the University of Michigan Press in the "Social History, Popular Culture, and Politics in Germany" series. Other publications include: "Zwischen Nirgendwo und Immer Wieder: Das Unzeitgemäße in Hans Keilsons Romanen und die nicht ganz verpasste Begegnung mit dem Tod des Widersachers" (2019),  "Under the Sign of Caricature: Figuring Exile in Adolf Hoffmeister's The Unwilling Tourist (1941-42)" in Exilforschung  (2017), "A Sentimental Re-education: Postwar West Germany's Intimate Geographies" in Emotion, Space and Society (2017), "Adorno on the Airwaves: Feeling Reason, Educating Emotions," in German Politics and Society (2014), and an invited response to the question: "What is the Future of Psychoanalysis in the Academy?" in Psychoanalysis and History (2018).  Currently she is working on a series of essays addressing the Jewish-German author and psychoanalyst Hans Keilson's work. Her new book project is linked to modalities of evidence in forensics and art, drawing on her involvement as co-convener (with Professor Sarah Nuttall, Director of the Wits Institute for Social and Economic Research /WISER at the University of Witwatersrand, Johannesburg, SA) of the project "Trauma, Politics, and the Uses of Memory," in the Andrew W. Mellon Project "Critical Theory in the Global South" (2017-2020) in the Program in Critical Theory at Northwestern (partner university in the International Consortium of Critical Theory Programs). See: https://criticaltheory.northwestern.edu/mellon-project/critical-theory-in-the-global-south/
Teaching and research interests include: twentieth and twenty-first century German-language literature and film, psychoanalytic and critical theory, modern South African literature and film, memory studies, forensic anthropology, literature of migration, gender and queer theory, literary theory, genocide studies, and media of the Cold War era.
Back to top