Robert Ryder
Assistant Professor of Instruction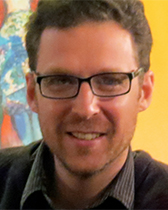 847-491-8295
1880 Campus Drive, Kresge Hall 3327
Professor Ryder was the Director of the Basic Language Program in the Germanic Studies Department at the University of Illinois at Chicago from 2014-2017. Previously he spent two years as a Postdoctoral Research Fellow at the International Graduate Centre for the Study of Culture (GCSC) in Germany and was a Visiting Professor at the University of Chicago. He completed his PhD in German and Comparative Literary Studies at Northwestern University in 2009.
 
His first monograph, The Acoustical Unconscious from Walter Benjamin to Alexander Kluge, explores the psychological, media-historical and theoretical implications of an "acoustical unconscious" with respect to both literary studies and sound studies. In Fall 2018 he gave a talk at the GSA on Günter Eich, Heidegger and radio, and at ACTFL spoke about the use of graphic novels in the German classroom. Recent articles include, "Of Barks and Bird Song: Listening in on the Forgotten in Ludwig Tieck's Der blonde Eckbert" (Goethe Jahrbuch, Spring 2018), the "Innervation" entry in Wenzel and Szeman'sFueling Culture. 101 Words for Energy and Environment (Fordham UP, 2017), and "On the Minute, Out of Time: Reading the Misreading of Time in Walter Benjamin's 'Auf die Minute'" (Germanic Review, Summer 2016). He is currently working on the semantic and paronymic relations of certain words in Kafka's "In the Penal Colony."
 
Professor Ryder has increasingly used online teaching tools to enhance his German language courses. In Summer 2017 he co-published qualitative results of a game app he designed as a supplement to German language instruction ("The 'UIC German' game app for the enhancement of foreign language learning - Case study" in the International Journal of Education Technology). While his teaching is currently focused on the Business German sequence, he has also taught German courses focused on the German radio play and graphic novel, the intersection of man and technology ("Mensch und Maschine"), Beethoven's Ninth Symphony ("Clockwork Ode: from Schiller to Kubrick"), and hell ("Comparative Narratives of Descent").
Back to top