Ingrid Zeller
Professor of Instruction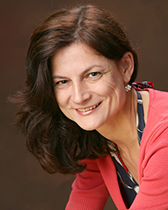 847-491-8290
Kresge Hall, Room 3-331
Ingrid Zeller teaches courses at all levels in the German Department, directs the German Writing Center, serves as a director of the summer program "Berlin: Global City in the Center of Europe", and has also coordinated Beginning and Intermediate German. Trained as a pianist at the Manhattan School of Music, she studied German language, culture, and literature at Columbia University in New York City.

Professor Zeller's teaching and research interests include curriculum design with special emphases on architecture, film, music, and urban development. Her engagement with architecture finds expression in her course on "Bauhaus and Beyond - German Influences on the Chicago Skyline" and her ongoing accompanying web-project Bauhaus and Beyond. She has also co-produced (with Denise Meuser and Franziska Lys) an interactive architecture tour on the topic, a series of web–based interactive videos of a German architecture tour in Chicago. The intersection between music, culture, literature, performance, and language learning is reflected in the wide range of courses that she teaches, ranging from "Stories through Songs" "Music, Magic, and the Mysteries of Language," and "German through Opera," to "Beginning German through Musical Journeys in Vienna," and in the interdisciplinary and student-driven events she organizes.

Among Professor Zeller's goals are the meaningful integration of a "Lernort" and blended learning in the curriculum, resulting in innovative teaching materials and student projects, especially in the context of architecture and German heritage in Chicago. She is a certified volunteer docent for the Chicago Architecture Center (CAC) and conducts, both in English and German, river cruises and a number of walking tours on historic and modern skyscrapers and other architectural highlights in Chicago and Evanston.

At Northwestern University, Professor Zeller is the faculty adviser for the German Undergraduate Advisory Board (GUAB) and a faculty fellow for Chapin Hall. She is also an active member of the Council on Language Instruction (CLI), and has served as adviser for first-year students.

Professor Zeller has a long association with the Association for Teachers of German (AATG), for which she is a professional consultant. She has served as testing chair, program, vice-president, and president of the Northern Illinois Chapter of the AATG, and currently serves on the Board of Directors for the national AATG. Ingrid is a co-founder of the annual Northern Illinois College German Student Immersion Day for area colleges which took place for the first time in 2013. Recent immersion days have featured German hip hop group EINSHOCH6 (2017/2018) and a focus on the Bauhaus influence in the USA (2019)

Ingrid also serves as an AP reader, and collaborates with the Goethe-Institut Chicago. She regularly presents on films, architecture, music, diversity and social justice, and community and collaboration, and other topics in the context of language acquisition at local, national, and international conferences, and also publishes on these topics.

Professor Zeller's engagement is reflected in the teaching awards she has received. She has been elected to the Associated Student Government Faculty Honor Roll ten times and received the Northwestern Alumni Association Teaching Award in 2005. In 2009, Ingrid received the national AATG/Goethe-Institute Certificate of Merit Award. She was selected a Charles Deering McCormick University Distinguished Lecturer for Teaching Excellence at Northwestern University (2011-2012) and a faculty fellow for the Center for Civic Engagement. In 2015, Ingrid was awarded the Outstanding Educator Award from the Northern Illinois AATG (American Association for Teachers of German), and, in 2019, she received the ICTFL (Illinois Council on the Teaching of Foreign Languages) Award for Distinguished Service for Foreign Language Learning.
Back to top