Kristine Thorsen
Lecturer Emeritus
A.M., University of Chicago; M.A., Ph.D., Northwestern University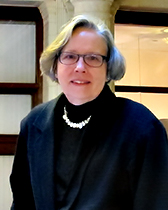 Kristine A. Thorsen is currently Lecturer Emeritus in the Department of German. During her nearly thirty-year association with Northwestern, Dr. Thorsen coordinated both Beginning and Intermediate German courses, pioneered courses on contemporary German and Austrian literature, and literature by women, taught in the M.A. Literature program in the School of Continuing Studies, and also served as a bibliographer for foreign language literature in the University Library.
Since her retirement in 2011, Dr. Thorsen has focused on translation and poetry. Her reference volume, Poetry by American Women, 1900-1975: A Bibliography is found in research libraries both in the USA and abroad. She has been a participant at the Bread Loaf Writers' Conference and writing workshops at Ragdale Foundation, Lake Forest, Illinois as well as the Summer School Translation Workshop at the British Centre for Literary Translation, University of East Anglia.
Her translation of Peter-André Alt's biography Franz Kafka, the Eternal Son will be published in summer 2018 by Northwestern University Press.
Back to top