Katrin Volkner
Associate Professor of Instruction
Ph.D., Duke University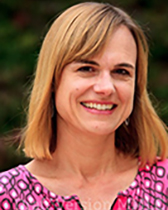 Currently on leave 2015-2016
Katrin Völkner was Associate Professor of Instruction in the German Department and the director of Weinberg's Multimedia Learning Center. Her teaching was focused on the Business German sequence, but she also taught a variety of culture and literature courses.
Born and raised in Berlin, she started her studies at the Freie Universität Berlin before becoming an Exilberlinerin in St. Louis where she received her MA in German from Washington University. She holds a Ph.D. in German Studies from Duke University.
Dr. Völkner's research background in book culture, the history of reading, and processes of popularization inform her thinking about the transmission of knowledge in the classroom and beyond. In the past few years, she has been particularly interested in the impact of digital technologies on teaching and learning and how to best integrate a variety of media and technologies into the curriculum. She is therefore thrilled to be working with the Multimedia Learning Center staff and fellow faculty members on projects that explore how new and emerging technologies can support curricular goals. In collaboration with a Computer Science student and MMLC staff, she is currently working on a mobile app (beta) for helping students learn those pesky German prepositional verb phrases.
Back to top