Friedrich Balke
Max Kade Distinguished Visiting Professor of German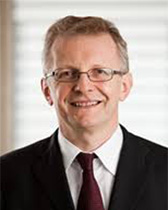 Friedrich Balke is a German philosopher, culture and media scholar. He holds the Chair of 
Media Studies with particular emphasis on the theory, history and aesthetics of pictorial 
documentary forms at the Ruhr-Universität Bochum. He is also the spokesperson of the DFG Research 
Group "The Documentary. Excess and withdrawal ". Professor Balk was in residence at Northwestern 
University in Spring 2019. 
Back to top